Our Mission
Our mission is to be a voice for domestic rabbits by providing education, resources, shelter, and homes where they will thrive. We get to know our bunnies and strive to match them best with each person/family situation.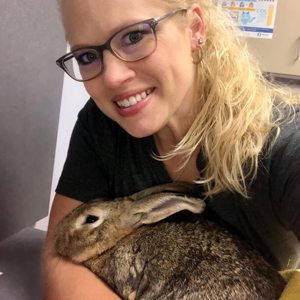 About Us
We are a 501(c)3 non-profit charitable organization located in Marshfield, WI.
We are a foster-based rescue and rely 100% on volunteer support and donations.
A Note from the President:
I want to help share the love and education of bunnies by being the voice for my late Oscar Henry McPickles. I do not claim to be an expert, but I will continue to research and learn daily to do best by every bun that comes into my life. Oscar came into my life completely unexpectedly after being found outside in rough shape. At the time I knew absolutely nothing about rabbits. I learned quickly, but unfortunately lost him 4 months later to what I can only assume to have been GI stasis (will never know for sure). Since that time, I research/learn daily about rabbit care and needs as they are delicate animals with much to know that many are unaware of. 
Although I knew a lot, I did not know enough, and feel it may have led to overlooking signs/symptoms that my boy was in trouble, likely giving him veggies that could have caused the issue, etc. (amongst other complications and learning lessons, including where to vet a rabbit). I am willing to learn and put in the time to do the best I can for every bun that comes into my life. I know that not all buns can be saved, but for those that touch my life, I hope to do best for each, first medically, and then by placing into homes that may be best for each bun's unique personality & situation. To honor Oscar, I want his voice heard through spreading the love of rabbits (buns) and through education.

Brittany Graves